Car Sharing
Car sharing is an excellent way of reducing the costs of car travel as well as helping to minimise congestion, pollution and your carbon footprint. The Carshare Devon website is free to use and links passengers and drivers together to share their journeys.
You can share cars and take it turns to drive, or reguarly use a single car and contribute to fuel costs. It is very flexible – you can car share once a week, everyday whatever suits you best.
Car Club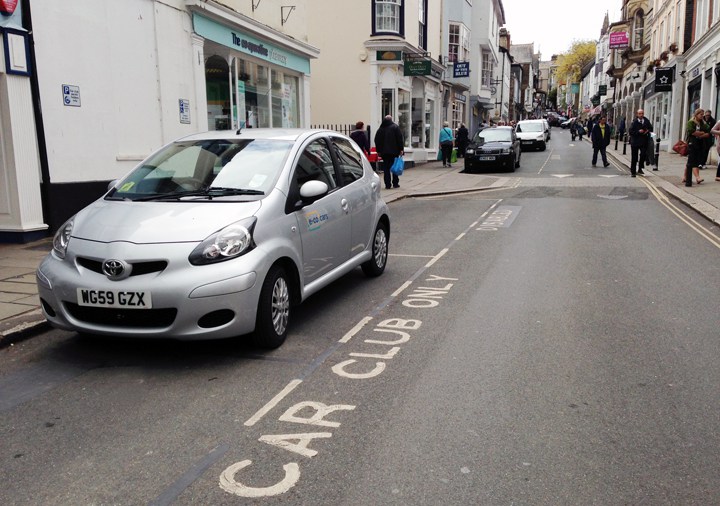 E-cocars is a car club in Totnes with cars for hire by the hour, day or week. It enables people to drive a car without the costs and hassles of individual car ownership or possibly as an alternative to second car ownership.
The Follaton Oak Green Travel Project has secured funding* for an additional E-cocar that will be parked in the Follaton House car park (at the end of the car park nearest Totnes).
The club's other cars are located at Totnes Station, Fore Street and in Seymour Street, Bridgetown. All of the cars are very fuel efficient and can be booked for as little as 1 hour or up to a couple of days. They are reserved online and can be collected and returned 24/7 using a high-tech smartcard.
There is a one-off joining fee of £25 for an individual or household and then you pay by the hour or the day and by the mile.
See the website for full details: www.e-cocars.com
(*funding received from the Devon County Council Investing in Devon fund)
Taxis
Local taxi firms:
AP Taxis: 01803 840 404
Badger Cabs: 01803 840400
Bumble Cabs: 01803 865 588/07507 863 863
Happy Cabs: 01803 55 92 92/ 07979 044 146
South West Cabs : 07772 744598
Lifts To Health Appointments
Local charity Totnes Caring provides lifts to hospital and other health related appointments for the most vulnerable, mostly older people, registered with Leatside or Catherine House surgeries. They depend on volunteer car drivers and sometimes demand outstrips supply, so they do need to prioritise the most needy patients. They can be contacted on 01803 865 684 9:30am to 4:00pm Monday to Friday.
Totnes Caring always need more volunteer drivers (expenses are paid) who can help provide this valuable service. Contact them on 01803 865 684 if you'd like to find out more.
Patient Transport can also provide a hospital car service for eligible patients.
Their enquiry line is available on 01803 656777 between 9am and 3pm weekdays. The ambulance service provides suitable transport for patients who are considered by a doctor/midwife to be medically unfit to travel by other means.
Ring And Ride
The Newton Abbot Ring and Ride Service is currently providing services in the Totnes area for people who find it physically difficult to use conventional public transport services. They can provide a door-to-door service from your home into town and back.
Call 01626 335 7775.